I visited Prague for the third time recently. Previously, I had seen all the main tourist sights I had wanted to so this time I wanted to see some other parts of the city that are not so well known.
One of the places of interest to me was the Strahov Stadium which I have always wanted to visit, if anything just for its sheer size. The stadium was first built in 1926 and then expanded first in 1948 and then again in 1975. It was used mainly for large gymnastic displays known as Sokol before hosting music concerts in later years. The capacity of the stadium is around 220,000, making it the largest stadium in the world.
The stadium currently lies mostly derelict with some local sports facilities housed beneath the stands on one side. AC Sparta Prague uses the vast playing area as a training ground which comprises 6 full size pitches and 2 pitches for futsal, a type of football.
The  architecture is quite typical of the era in which it was built. The large grandstands have used glass brick detailing to the concourses and tops of the stands. There is also a pleasant symmetry to the stands which are seemingly built on modernist principles. There is still a grand sense of elegance to the stadium despite its size and rapidly deteriorating state.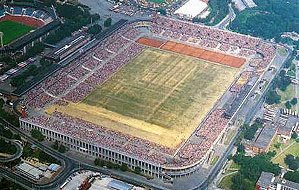 The problem with monumental structures such as the Strahov Stadium is what to do with them? Eastern Europe is littered with relics such as the Strahov from the Cold War era which have simply been left to rot or have been demolished. When a building of this type is seen as no longer relevant, what else can be done? Personally, I very much doubt it will see proper use as a stadium again but if there is no viable use for a structure of this size then the question must be asked: why should it be used again?
The wider point that I am trying to make is that a lot of people have sentimental attachments to buildings – you may have memories of a place and what it made you feel at the time but that is all they are: memories. If something doesn't work for its original intended purpose then how can it continue to serve as anything other than a monument to itself?